Most often, The Voyagers meet in the Washington D.C. area, in March and November.  
Once every two years, we move our meeting to another part of the country in order to offer workshops for local clergy.  See the "Meetings" section for details of upcoming Voyagers meetings.  Any conferences open to area clergy and leaders are described in the "Open Conference Days" section.
Members of The Voyagers – clergy and other professional church leaders – come from multiple denominations.  Some are active as congregational priests and pastors.  Others serve on the staff of national churches.  Some are "retired" but continue to be active offering coaching, seminars, and consultation.  What all have in common is a commitment to deepening their understanding of Bowen theory, and working on differentiation of self.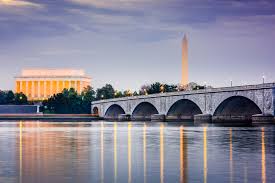 The Key Bridge, between Rosslyn, VA and Georgetown in Washington DC.